Loving "Beyond the Sea"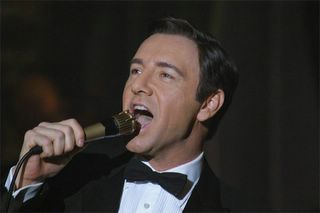 Granted, I was
interested
in seeing
Beyond the Sea
, Kevin Spacey's biopic of the late Bobby Darin. But my expectations were absolutely zero, based in part on the largely lackluster reviews the film had received and the fact that the movie was ignored as far as Oscar nominations go. Being a child of the 1960s, though, I've always had a soft spot for Darin, and I've been a Spacey fan ever since he played Mel Profitt on the
Wiseguy
TV series back in the late '80s. So we went to see
Beyond the Sea
today.
In short, I was blown away. I
loved
it. I
adored
it. Spacey -- who wrote, directed, and stars -- is a genius. His script is
very
clever. His acting and direction are superb. And he does his own singing! Kate Bosworth makes a fine Sandra Dee. John Goodman, Bob Hoskins, Greta Scacchi...hell, they're
all
top-notch in this. William Ullrich, the kid who plays "little Bobby Darin," is a standout. And then there's the music, and the dance numbers... I was grinning through the whole movie. I can't recommend it highly enough.
So what's with the movie critics? And the Academy?
Go figger.