Welcome to Sin City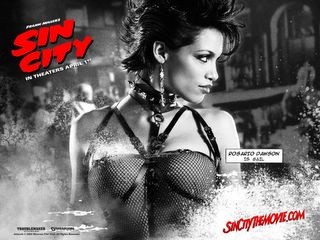 "So what upcoming movie are you most looking forward to?" I've been asked. "
Batman Begins
?
Fantastic Four
?"
Well, sure, I'm looking forward to
both
of those releases this coming summer. But before
either
of those hit theaters,
Sin City
debuts April 1, just a month away. And I know, I know, I shouldn't get my expectations up, but sorry, I can't resist. This film has all the marks of being a killer, and it's my Hot Pick for the spring.
First of all, it's based on not one but
three
of Frank Miller's terrific noir-inspired Sin City graphic novels:
Sin City
,
The Yellow Bastard
, and
The Big Fat Kill
.
Second, it's
co-directed
by Robert Rodriguez (one of my favorite directors:
Desperado
,
Once Upon a Time in Mexico
) and Frank friggin' Miller himself. I understand that Rodriguez either got bounced from or left the Directors Guild because he insisted on a co-directors credit (a Guild no-no).
Third, it's got a wicked line-up of stars -- Bruce Willis, Benicio Del Toro, Mickey Rourke, Clive Owen -- plus several of today's greatest hotties: Jessica Alba, Jaime King, Alexis Bledel, and Rosario Dawson (pictured above).
And finally, it just
looks
HOT. Visit the movie trailer at the link above. It's like the Miller graphic novels have jumped right off the printed page and onto the screen. Black-and-white with occasional splashes of color here and there. Actual Miller drawings sprinkled throughout.
I can't wait.