Finally..."Sin City"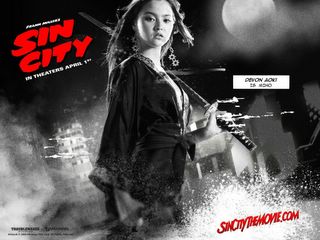 Here's what Deb always tells me:
"Don't get your expectations too high."
But I usually do anyway.
My expectations for the movie adaptation of Frank Miller's terrific
Sin City
graphic novels were very high. After all, Frank Miller himself was getting a director credit right alongside Robert Rodriguez. Quentin Tarantino, fer cryin' out loud, was getting an equally unheard of "special guest director" credit. And the trailer looked absolutely incredible.
Sin City
opened nationwide on Friday. My expectations were more than met. It's a blockbuster. You've never seen anything like it. It's Miller's noir vision come amazingly to life. The casting is extraordinary. Bruce Willis, Mickey Rourke, and Clive Owen are perfect. Likewise, Jessica Alba and Rosario Dawson are marvelous. My favorite performance, though, is that of Devon Aoki as Miho (pictured above), the Samurai warrior of Sin City's Old Town. She never speaks a word in the movie; she's the silent killer. But she steals every scene she's in.
Granted,
Sin City
most definitely ain't for everyone. But for fans of Frank Miller, cutting-edge film noir, and hardboiled action, it provides a movie experience not to be missed.
Monday morning addendum
I have to admit a little surprise at how well
Sin City
performed at the box office over the weekend. It made slightly more than $28 million, more than twice what was earned by the No. 2 film, Queen Latifah's
Beauty Shop
. Congratulations to Robert Rodriguez, who "shot and cut" the film, for taking a little-known graphic novel series and making a hit out of it (a hit, that is, if it can maintain its momentum into next weekend).