Is "1984" still relevant? Well, duh!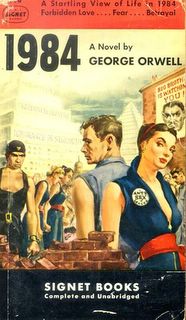 A few days ago, while stationed in a corner at one of our local Starbucks -- as I am
most
afternoons -- I heard a couple of high school kids talking. Said one: "I have to wonder if this book is even relevant anymore. After all, 1984 was more than 20 years ago!"
These kids were talking about George Orwell's
1984
. Honestly, I wanted to shake the little bastard and yell into his face. But I restrained myself. Just another victim, I thought, of the Ministry of Truth (i.e., government schools) and its program to rewire today's children, "our most important resource" (as Hillary might say).
Next time I hear someone question the relevance of Orwell in this "enlightened" era, I'll send 'em to
Orwell Today
. Check it out.